 Does Personalabs provide testing for minors?
Personalabs is unable to offer clinical lab testing to any person under the age of 16. Those between the ages of 16 and 18 are able to be tested for sexually transmitted diseases only. For the remaining clinical lab tests, Personalabs is unable to offer tests to any person under the age of 18.
I feel nervous and embarrassed to go to the lab for testing. What should I expect?
The Quest patient service centers consist of a waiting room and several small specimen collection rooms. When you arrive at the lab, you will provide the attendant with your lab order containing your requisition number. If there are other people waiting, be assured that no one knows which test you are taking except the laboratory staff. The lab collects specimens for hundreds of types of tests at each of their collection centers.
Does my order ever expire?
Lab orders are valid for up to six (6) months from the date of purchase. If you do not use your lab order within this time period, it will expire, resulting in a $15 reactivation fee if you wish to reinstate your order.
I feel healthy so why should I get tested?
Early detection can be the best defense for serious medical conditions, which may not have any noticeable symptoms. Many tests are used as baseline screenings for comparison to future testing.
I need to get a test that is not on your website
If you need to buy a test that is not on the Personalabs website all you need to do is
contact us
, let us know what test you need and we will see if we can get it for you. We must seek approval from our Medical Director to add a test to our menu. Once confirmed, then the test is sent to finance for pricing and then uploaded to the site.
How to reset your password
To reset your password please go to the login page and click the reset password link
Click here to go to the login
You will then be taken to a page to enter your email address to request a new password. An email will be sent to the address below containing a link to verify your email address.
How to access your account
To access your account please go to the top of the website and click sign in.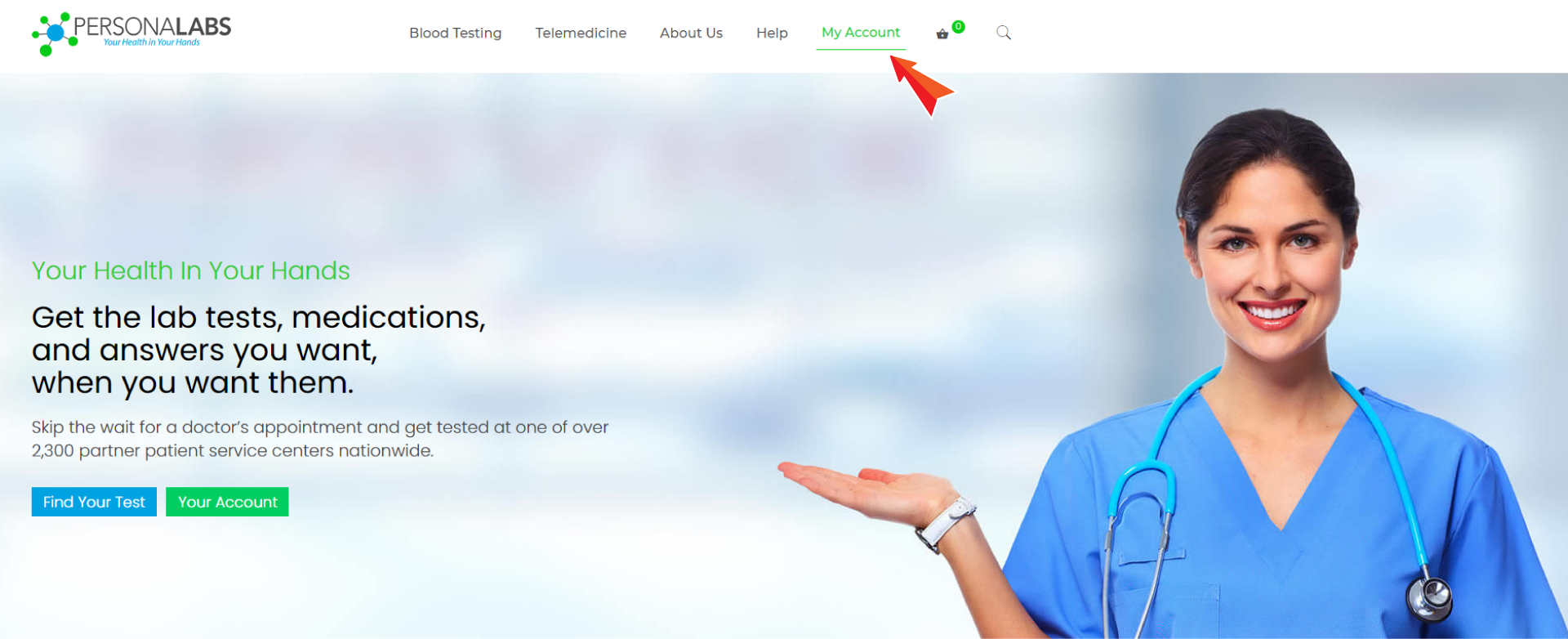 Or click here to access your account
Login to your account
Once logged in you will see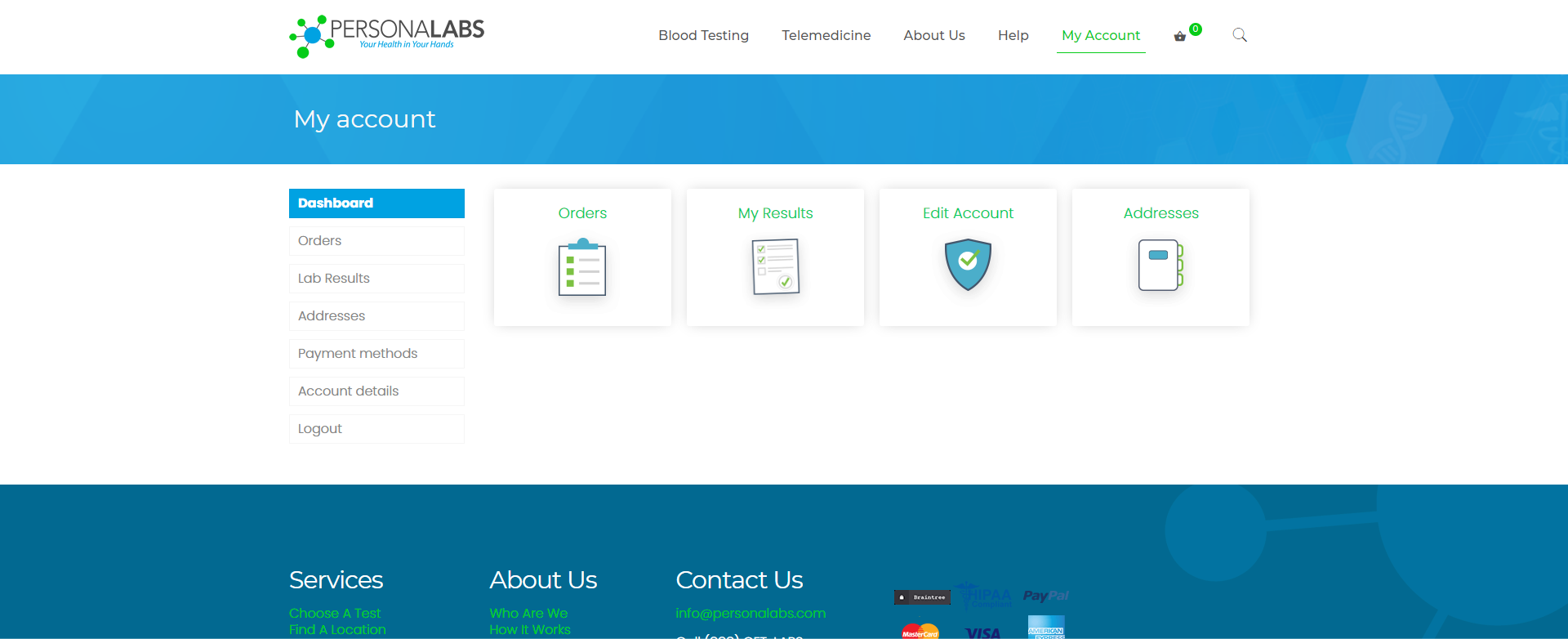 You will find your lab orders and results in the patient portal.
What order/ID number should I use when visiting lab?
Please use the patient ID as a reference when visiting a Quest Diagnostics patient service center.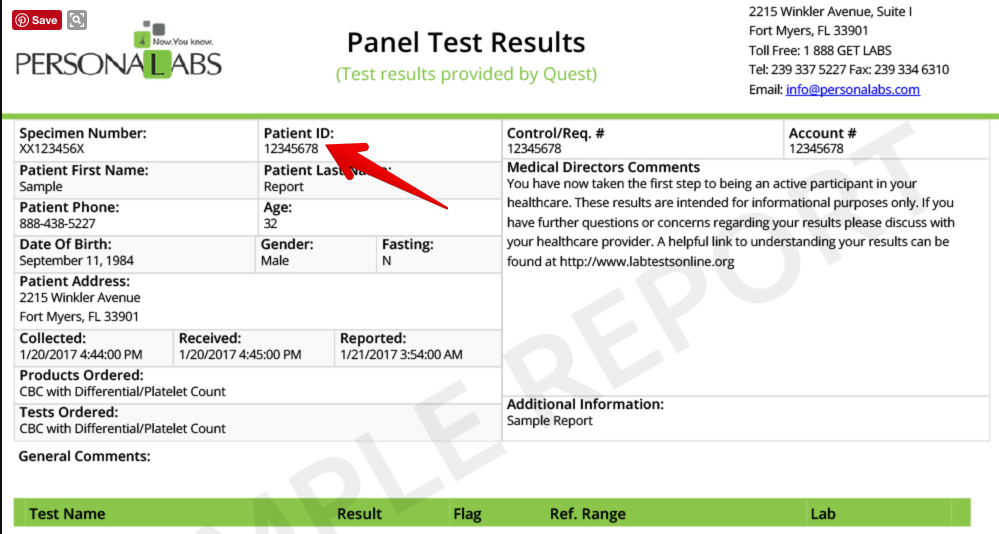 I am traveling to the USA. How do I use Personalabs?
Our services are designed for patients that reside within the US. There are several reasons for this - one is to make sure the appropriate physician reviews the order and, if necessary, the result. Also, in some cases, letters are sent to a patient informing them of their abnormal or critical result - it's imperative that the patient receives these if sent. Lastly, there are issues with registry reporting, in case a patient tests positive for a reportable STD, or Zika.
If you are traveling to the USA you can still use the Personalabs service.
After you have placed your order you will be requested to supply us with some information so that we may create your lab order for you.
It is here that you need to provide us with an address in the state that you are getting tested. This is so we can get a Doctor's order from a physician in that state.
You must provide us with an American telephone number but if you do not have one you can use ours. You must then provide us with your mobile or home phone in your country so that if there are any issues with your lab work we can contact you immediately.
Can I go to any Quest Diagnostics in the USA?
Personalabs recommends you use their Location Finder to locate the nearest Quest Patient Service Center in your area.
We are connected with Quest's national hub, and joint ventures and partner sites such as SonoraQuest and the Nichols Institute are not connected with the national hub. Therefore, if you visit one of these locations, results may be delayed and may not be routed through our system as normal.
What is a Patient Portal?
Think of your Patient Portal as a secure lockbox for your orders and results. You will need a pin passcode to enter your portal. Here you will find all of the orders you've placed, receipts, and results.
What does PSC Hold mean on my lab order?
PSC Hold means "Patient Service Center" is pending. This means that the customer must use the lab order at a Quest Diagnostics Patient Service Center. Once a customer visits a Quest location, the PSC information will show on the results.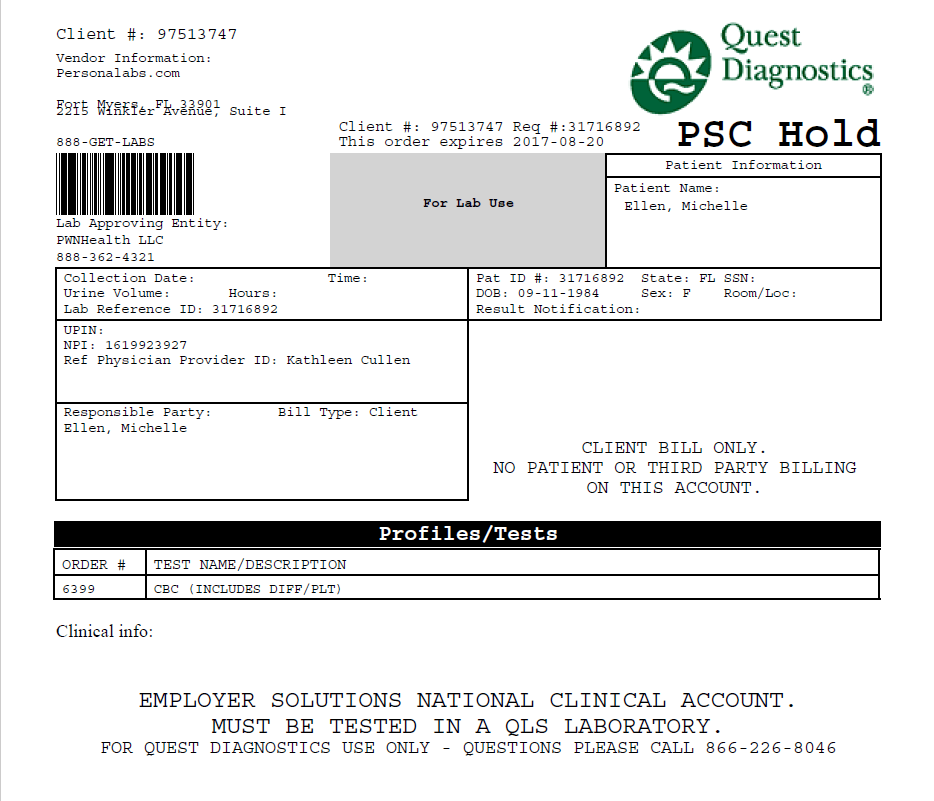 How soon after placing my order can I go into the lab?
You are able to get tested as soon as the lab order with your requisition number is generated. Out of courtesy to the lab attendants, we suggest you arrive at least 30 minutes prior to lunch hours or close of business day.
How are you contracted with Quest?
In 2015, we signed a contract with Quest Diagnostics in order to provide our customers additional lab tests and locations to get tested. We provide you with the doctor's order you need to get tested with Quest. You can visit one of Quest's 2,300 locations to provide your specimen and results are sent directly to your secure Personalabs account.
What is a lab requisition (doctor's order)?
Requisition refers to physician's order/doctor's order/lab order.
A physician order is an authorization for you to have lab testing performed. It's similar to a doctor providing a prescription for medication. This step is needed because some states require that a licensed medical doctor authorize laboratory tests.
What does nonreactive mean?
Nonreactive means a negative result. Reactive means a positive result.
Are the lab tests free?
No, we do not provide any free lab tests. We try to keep our prices as low as possible and provide discount codes so our customers can order their tests at affordable prices.
Do I need to present a photo I.D. at the lab?
No, you will not be required to show an ID at the lab.
What service does Personalabs provide?
Personalabs is a lab management service. We provide customers with the ability to order a blood test online and once the order is placed, we provide them with a doctor's order. You can print the order confirmation and then visit a lab. We work with Quest Diagnostics. A lab technician tests the specimen and sends the results back to the Personalabs system. Personalabs provide you with the results via your private account, which can be accessed anywhere with your email and secure password and pin. Personalabs gives their customers access to a symptom checker, doctor's consultations and prescriptions for certain tests.
What are Personalabs hours of operation?
The office is open Monday-Thursday 8:30am-8pm, Friday 8:30am-6pm, Saturday 10am-4pm EST.
However, you can order tests online 24 hours a day, 7 days a week, and you will still get your lab order within 60 seconds of purchasing. The hours of operation for the Quest Patient Service Centers vary by location. Please refer to our location finder for Quest's hours of operation.
The hours of operation for the Quest Patient Service Centers vary by location. Please refer to our Location Finder for Quest's hours of operation.
How will I benefit from my lab results?
Lab results can help you see things that haven't physically manifested yet.
How long have you been in business?
Personalabs was established in 2006.
Why do you need all my information?
We require your name and address to match your results to the correct account. We need your zipcode and state to obtain a doctor's order from a doctor in your state. We need your telephone number in case you have a critical result and a physician needs to contact you. Please note we may contact you by phone if we are unable to reach you by your registered email. We need your gender and date of birth as some results have variable ranges based on gender and age. We also need your date of birth as we are unable to provide testing for those under the age of 18.
Is it confidential?
Yes, Personalabs is a confidential service. Your results are stored in your personal, private account.
What are some of the benefits of using Personalabs?
Personalabs is a very affordable solution for your lab testing needs as Personalabs is 70% cheaper than getting a lab test through your doctor or going straight to the lab. There are no hidden fees. The price you pay for your test covers the doctor's order, your visit to the lab and your results.
Personalabs has a selection of over 300 blood tests which means the chances of you finding all the tests that you need are very high. Personalabs offers same day, direct access to lab testing through one of the nation's leading laboratories in the United States - Quest Diagnostics. With Quest, you have access to 2,300 Quest Patient Service Centers and are not required to make an appointment.
Results can be available in as little as 24 hours depending on the test that you have ordered. Your results are private and only for you, you choose what you do with them.
Personal is our first name and we take pride in providing excellent personalized service to our customers.
Do I need a referral from a doctor?
You do not need a referral from a doctor. Once you have placed your order, the order is reviewed and approved by one of our licensed physicians in your state, and within seconds, your lab order is generated and deposited into your secure Personalabs Patient Portal.
Why can't I get tested in New York, New Jersey, or Rhode Island?
Laws in these states require that any lab work be ordered by your personal physician not a third party; a copy of this order must be presented at the laboratory. If your state does not permit laboratory testing without a physician's order, you are welcome to get tested in adjoining states. Your professional test results will still be valid and should be accepted by any healthcare provider, anywhere.
Where do I go to get tested?
After you order and pay for your test online, you can go to one of Quest's 2,300 Patient Service Centers to have your blood drawn or specimen collected. Use our Location Finder to find one that's convenient. Before visiting a lab, you'll need to pay for your order online and receive a confirmation lab order. Remember to take your lab order to the lab with you.
What do I need to do to prepare for my test?
Most of our tests require no preparation. Any special requirements prior to testing, such as fasting for up to 12 hours, should be noted in the test description. When you arrive at the lab, Quest professionals will make sure you've fulfilled any requirements. If you have any questions, contact us on live chat or call us at 1-888-438-5227.
Do you accept health insurance?
No. We keep our costs as low as possible because we're able to cut through red tape. So at present, we do not accept any form of health insurance. Please note that a DX code is a diagnosis provided by the doctor. As Personalabs is only responsible for providing you with lab results, we are unable to provide you with a DX code (diagnosis). Our Physicians Network views all results to make sure there are no critical issues. If results are abnormal, our Physicians Network contacts you directly to advise you to seek medical attention with your doctor or healthcare provider.
How do I know which test to get?
Personalabs has over 300 tests available online, and information about health concerns such as diabetes, heart disease and stroke, allergies, STDs, hepatitis and more to give you guidance. If you are having difficulties finding a specific test or have questions, contact us on live chat or call us at 1-888-438-5227.
However, please be aware we cannot suggest or recommend any tests, nor give medical advice.
How do I order a test?
Getting tested with Personalabs is simple: order your test through our website, visit a lab, then view your results online. Here's a detailed breakdown of the first step in the process, ordering your test:
Create or sign into your Personalabs Account here.
You'll be asked for basic personal information, and will choose a password and security pin.
Select the Personalabs test(s) that is right for you by using the Find Your Test search box, and add to your Shopping Cart.
If you have a Coupon Code, remember to enter it before you click on checkout.
Pay for your test through our secure Checkout with a major credit card, HSA debit card or PayPal.
Remember to print your confirmation lab order to take with you to the lab - the lab technician cannot perform your test without this confirmation!
Do I need to get approval from my health insurance before ordering a test?
No. Since you pay for your tests directly you don't have to hassle with insurance approval, and you'll pay a lot less. With Personalabs, the testing process is in your control, done according to your schedule, and your insurance company will not have access to the results of your tests unless you choose to share them.
Do I need a doctor to get a blood test through Personalabs?
No. About 75% of all healthcare decisions are based on the results of lab tests, but a doctor doesn't have to order those tests. By giving you direct, online access to the tests your doctor might order - using the same labs - Personalabs is able to save you time and money. In the end, you get the same results, which you can then share with your doctor or healthcare provider.