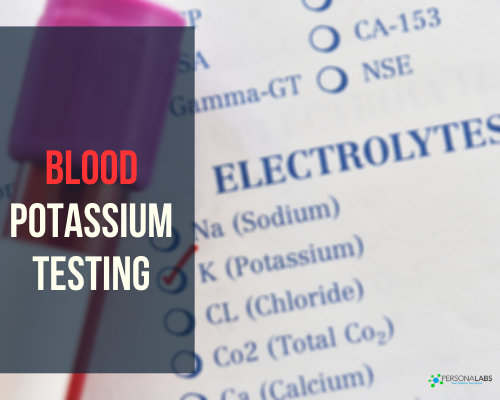 Blood Potassium Testing
Hypokalemia/Hyperkalemia
Hypokalemia is a condition where the potassium levels in the blood are too low. On the contrary, hyperkalemia is characterized by higher than normal levels of blood potassium. Both hypokalemia and hyperkalemia are electrolytes disorders than can be caused by certain medications, underlying medical conditions such as anorexia, diabetes, and kidney disease.
Symptoms
Hypokalemia
Constipation
Arrhythmia
Muscle weakness
Fatigue
Hyperkalemia
Muscle weakness
Fatigue
Nausea and vomiting
Breathing difficulty
Why should you get tested?
Monitoring your blood potassium levels is essential to detect abnormalities that can develop into serious medical conditions such as seizures, and cardiac arrest. Early testing leads to early detection that enables fast and proper treatment.
Where can you get tested?
Can't find the test for you? Give us a call at (888) 438-5227. Our friendly customer service representatives will help you find the right tests that you need and answer any questions you have.
Here at Personalabs you can order blood tests online from the convenience and privacy of your home with just a click of a button.
We guarantee your peace of mind as we do not share your test results with insurance companies or any outside parties. You are completely in control over who can review your test results.