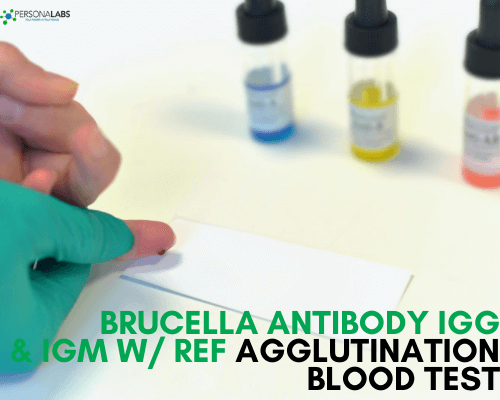 Brucella Antibody IgG and IgM w/ Ref Agglutination Blood Test
Brucellosis
Brucellosis is an infection caused by the bacteria known as Brucella abortus which is acquired by consuming unpasteurized dairy products, exposure to contaminated air, or having direct contact with infected animals.
Symptoms
Fever
Headache
Chills
Unusual tiredness and weakness
Loss of appetite
Joint, muscle, and back pain
Why should you get tested?
Brucellosis can be very tricky to identify especially because it resembles the symptoms of the flu. With proper and accurate testing, the infection can be treated early and long-term complications can be avoided.
Where can you get tested?
Can't find the test for you? Give us a call at (888) 438-5227. Our friendly customer service representatives will help you find the right tests that you need and answer any questions you have.
Here at Personalabs you can order blood tests online from the convenience and privacy of your home with just a click of a button.
We guarantee your peace of mind as we do not share your test results with insurance companies or any outside parties. You are completely in control over who can review your test results.