Did you know that one in every three deaths in the United States is caused by heart disease?
It's true:
Nearly 800,000 Americans die each year from heart disease, stroke and other cardiovascular diseases
Heart disease and stroke cost America nearly $1 BILLION a day in medical care costs and lost productivity. (Source: https://www.cdcfoundation.org/pr/2015/heart-disease-and-stroke-cost-america-nearly-1-billion-day-medical-costs-lost-productivity)
While these statistics are staggering, the good news is that heart disease can be prevented by making healthy lifestyle choices.
People who don't smoke, get plenty of exercise, and choose healthy foods over foods high in sugar and saturated fat are much less likely to develop or die from heart disease.
Blood Screening Tests Can Protect Your Health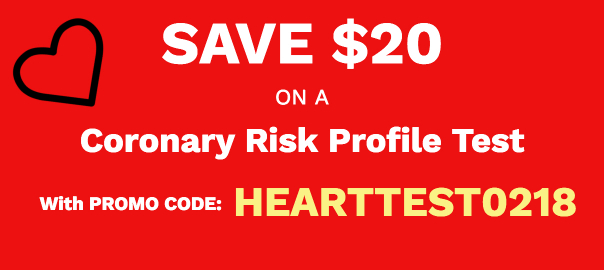 The Personalabs Coronary Risk Profile blood screening test is a simple, fast and easy way to learn if you are at risk for heart disease and take the steps needed to stay healthy for years to come.
This simple test combines three separate tests to provide a baseline measurement of your good and bad cholesterol levels (LDL/HDL ratio) and c-reactive proteins (an indicator for a wide range of disorders including inflammatory disease, autoimmune disorders, and chronic infections.)
Cholesterol is a fat-like substance in your blood. When too much cholesterol builds up in your arteries, blood flow to the heart is blocked or restricted — putting you at risk for heart attack or stroke.
Knowing your good and bad cholesterol levels will help you make educated decisions about lifestyle adjustments that may be needed to maintain your health and quality of life — such as exercising regularly, quitting smoking, increasing the HDL (good cholesterol levels) in your diet, and reducing foods high in saturated fat.
The only way to know for sure if your cholesterol levels are dangerously high is to get a blood screening test. High cholesterol does not cause symptoms on its own. If you are at least 20 years old, then you should have cholesterol screening every 5 years.
C-reactive Protein
High-Sensitivity C-reactive Protein (hs-CRP) is a protein produced by your liver in response to inflammation in the body. High levels of C-reactive protein in your blood, together with high levels of cholesterol, can indicate arteriosclerosis, or hardening of the arteries.
Lipoprotein
Lipoproteins are the "boats" that carry cholesterol through the blood stream. When it comes to heart disease risk, the LDL lipoproteins are the most important. Studies show that people who have more small LDL particles than large LDL particles in their blood are at greater risk for coronary disease.
The Personalabs Coronary Risk Profile Test can arm you with the information you need to protect your heart health for many years to come.