How secure should I feel with the results that I receive from Personalabs?
Personalabs contracts with Quest Diagnostics, one of the most respected and nationally recognized medical testing laboratories. Quest is CLIA (Clinical Laboratory Improvement Amendment) certified and used by doctors, hospitals and clinics nationwide.
What if my lab results are abnormal?
Abnormal test results should be considered an early warning, not necessarily an indication of illness or disease. Therefore, Personalabs highly recommends you discuss any abnormal results with a physician or healthcare provider.
Personalabs also offers a 15-minute virtual doctor consultation for an additional cost. You are able to speak with one of our licensed physicians to better understand your results. For more information, click here.
How can I share my results with my Doctor?
Please log in to your patient portal.
Click on the relevant result link

Turn on the extra security feature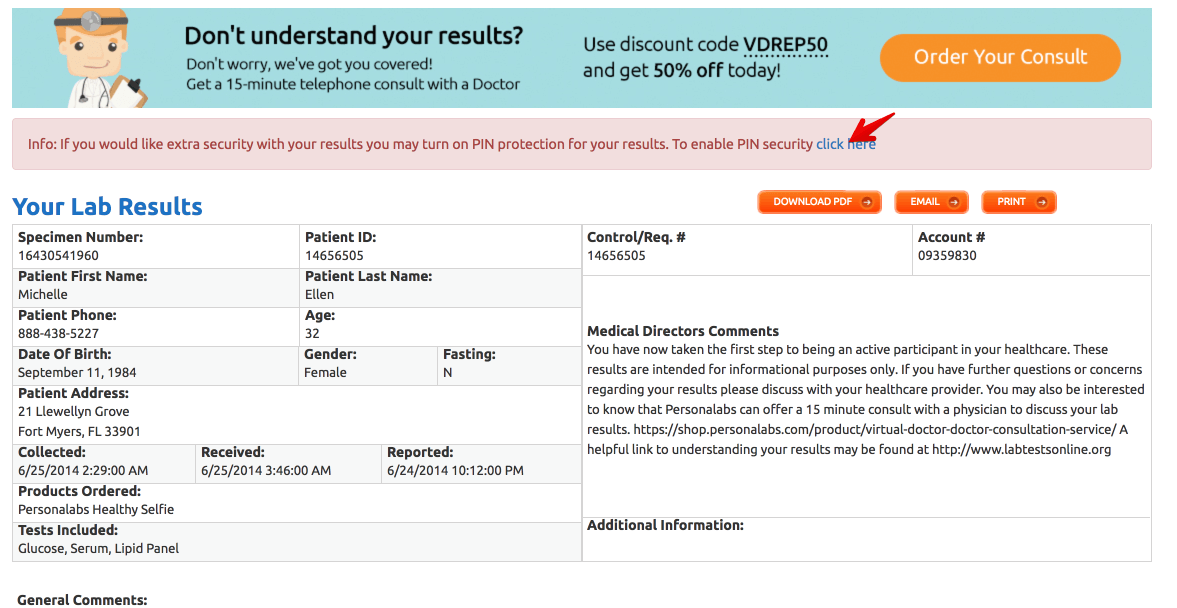 Download your results PDF which will now be password protected. Share your pin with your Doctor and he/she will be able to view your results in a manner that is HIPAA-compliant.
Can I get results over telephone?
We are HIPAA-compliant and therefore cannot give your results over the telephone. Results are provided to you through your secure Personalabs' Patient Portal.
Who should I call if I have questions about results?
If you have questions about your results, we advise you to discuss them with your primary care physician or healthcare provider as our office staff is not medically trained and can not interpret, discuss or explain results.
We do, however, offer a 15-minute virtual doctor consultation for an additional cost. You are able to speak with one of our licensed physicians to better understand your results. For more information, click here.
Do you keep a copy of test results?
Personalabs and our physician network store data from results in a secure database, on a secure server. Our physician's network provides licensure and oversight throughout the United States. They provide the doctors who sign off on your orders and review your results.
Quest Diagnostics stores the data for 90 days in case it needs to be resent to Personalabs.
Can you email test results?
Due to HIPAA regulations, we are unable to email your results to you. The reason for this is that our email system is secure but yours may not be. However, when your results are ready, we will notify you via email and you can review them by logging into your Patient Portal in your Personalabs account.
If for some reason we are unable to process your results electronically through our system, we require written consent from you to release your results via our ticketing system and that you understand that your email system may not be secure.
How to interpret results?
The results will either show as positive/negative, reactive/nonreactive, high/low or will provide you with a measurement of scale to show where your results are. You can also view Labtestsonline.org for more information. We also have a function whereby you can share your results with your doctor or schedule a 15-minute doctor consult through Personalabs. For more information click here.
How long will the results take?
Most results report within 2-5 business days. For complex tests, results may take up to 10 business days.
Turnaround times for test results vary depending on the following:
Date/time the specimen was provided at the Quest Patient Service Center
Date/time the specimen is received by the Quest testing lab
Set up days for the tests (not all tests are run every day)
If a test is positive and it has a reflex test
To find out the estimated turnaround for results, please contact our customer service department at 1-888-GET-LABS, or via live chat.
Do positive STD and HIV results get reported?
Yes, by state law we are required to report positive results to the local health department. This is done via a secure report. If you test positive for HIV or another STD, your results are reported to the state health department where you took your test, using name-based reporting. This means your name and results will be reported to the state and local health department, but only state public health personnel have access to this information to track rates of HIV in the state. The state health department then removes all personal information and reports only the results to the Centers for Disease Control and Prevention (CDC). Your personal information will not be shared with anyone else, including insurance companies.
What do I do with my test results?
It's easy to print your test results by logging into your Patient Portal, clicking the "Results" link in red, downloading the results as a pdf and printing. You can also easily email your results to your healthcare provider, family, or anyone else. However, your results are yours, and yours alone. It's up to you whether you choose to share them. If your results indicate a health issue that requires further action, we recommend that you contact your healthcare provider. For certain STDs, we are required by law to report any abnormal findings as defined by the Centers for Disease Control and Prevention (CDC). This is for research purposes only; your confidentiality is still protected.
How do I get my test results?
When your results are ready, you will receive a discreet email from us with the subject line "Information Regarding Your Personalabs Account." The email will instruct you to log into your Personalabs Patient Portal where you will find your results. You can choose to print them, download them or email them.